In the recent times the popularity and productivity through Microsoft PowerPoint has been increased to the next level. It has allowed the users to create something unique and exceptional that let them accomplish their needs and requirements. Particularly for delivering different kinds of presentations, PowerPoint has served to be an ideal tool. Due to growing productivity and popularity of this highly effective tool, a number of templates and themes are being developed by some experienced designers and developers.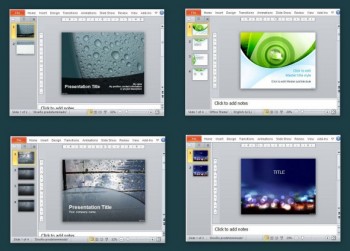 Today, there is a comprehensive range of themes and templates available that can be downloaded through different websites on the internet and can make your presentation immaculate. Although you download different themes but you must be knowledgeable enough for the ways to make your presentation much better than a normal. Following are the top 10 steps that can help you t create a better PowerPoint theme.
1) Simply open a new PowerPoint presentation file using a default blank theme.
2) Then you need to press Shift key and click on the Normal View icon that will take you to the slide master. Follow the process by clicking on the larger layout at the top and format that.
3) You can see that by default the titles are centered due to their varying length and their left side is always different from every other side. The titles are suggested to be justified so that they can stay in the same place.
4) You may notice that a few titles are of a single line while some are of two lines and they jump downwards when double line title is displayed after a slide with single line title. Simply give them top justification.
5) The Vertical Alignment to Top is required to be set and click OK.
6) The Title case is on by default because of which the first letter of every word will appear to be capital. So, it can be adjusted according to one's preference.
7) It is recommended to set the font size small in case the title length is longer. It looks attractive and the bigger font size for lengthy titles looks a bit messy. Size for the content in the body can be set accordingly
8) In case the titles are lengthy, you can even prefer making the text placeholder much wider. Dark blue and black text color must be used.
9) If the footers are not required, you must get rid of them by deleting. They occupy extra space that can be used for writing the body content.
10) It is highly recommended to make use of light backgrounds so as to make your targeted audience have a clear look at the content displayed on the slides.
So, following these proven steps must be incorporated in order to create a professional and attractive theme for your PowerPoint presentation.